iSpectrum - Macintosh Audio Spectrum Analyzer
iSpectrum is an easy to use audio spectrum analyzer that allows you to view live audio in a standard frequency plot, a stereo oscilloscope view and a waterfall display.
You can adjust the display resolution, center frequency and save images to disk.
iSpectrum is used by Amateur Radio Operators, Audiofiles, Musicians, Sound Technicians and Educators.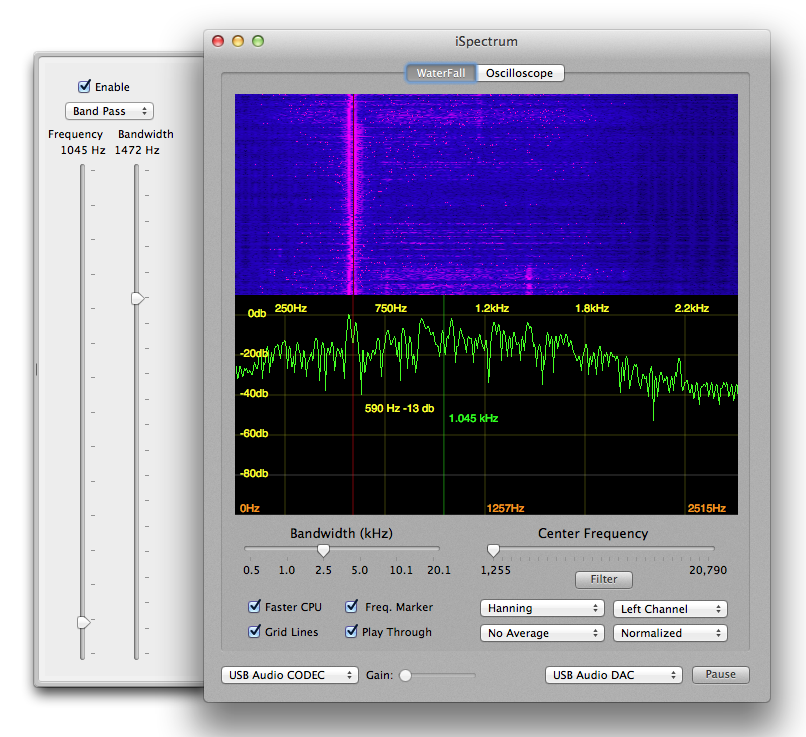 Features...
Audio spectrum analyzer.

Spectrum Display.
Waterfall Frequency Display.
Oscilloscope View.

6 User selectable bandwidth resolutions.
User selectable center frequency.
User selectable input gain.
Works with built-in, system and USB microphones.
Displayed images can be saved to disk.
Point-and-click frequency marker.
Auto centering of marker frequency when switching bandwidth.
Choice of FFT window functions.
User selectable sample averaging.
Requirements
Subscribe to the iSpectrum Group
Download



Download iSpectrum v2.05
For MacOS (10.3 - 10.7 Intel & PPC) 16-12-2012
Download iSpectrum v2.09
For MacOS (10.6 - 10.8 Intel) 10-03-2013
Download iSpectrum v2.10
For MacOS (10.6 - 10.14 Intel) 11-18-2013
iSpectrum is FREE!
If you find iSpectrum useful, please consider donating something towards it's support costs. Thanks!