MacLoggerDX and WSJT-X
WSJT-X (and JTDX) can control your radio directly or through the MacLoggerDX (Version 6.21+) DX Lab Suite Commander TCP server.
In either case, MacLoggerDX can also log QSOs from WSJT-X and JTDX, and then optionally upload them to LoTW etc.
MacLoggerDX logs the data that it gets directly from WSJT-X and will automatically Look Up the call in your Call Book to fill in any missing data.
MacLoggerDX will look up the WSJT-X or JTDX DX Call when it changes.
Spots are posted to the DXClusters/Spots table for all WSJT-X and JTDX CQ and heard messages. These spots can be combined with the DXCluster or extra_cluster spots and you can set Alarms for these spots as well as setting Auto Lookup just as you would for dxcluster spots. Monitoring these spots on the MacLoggerDX Map will show you at a glance what the propagation is like as seen by your antenna vs. what the dxclusters are reporting.
Still to be implemented...
Double-click on MacLoggerDX CQ spot to reply in WSJT-X.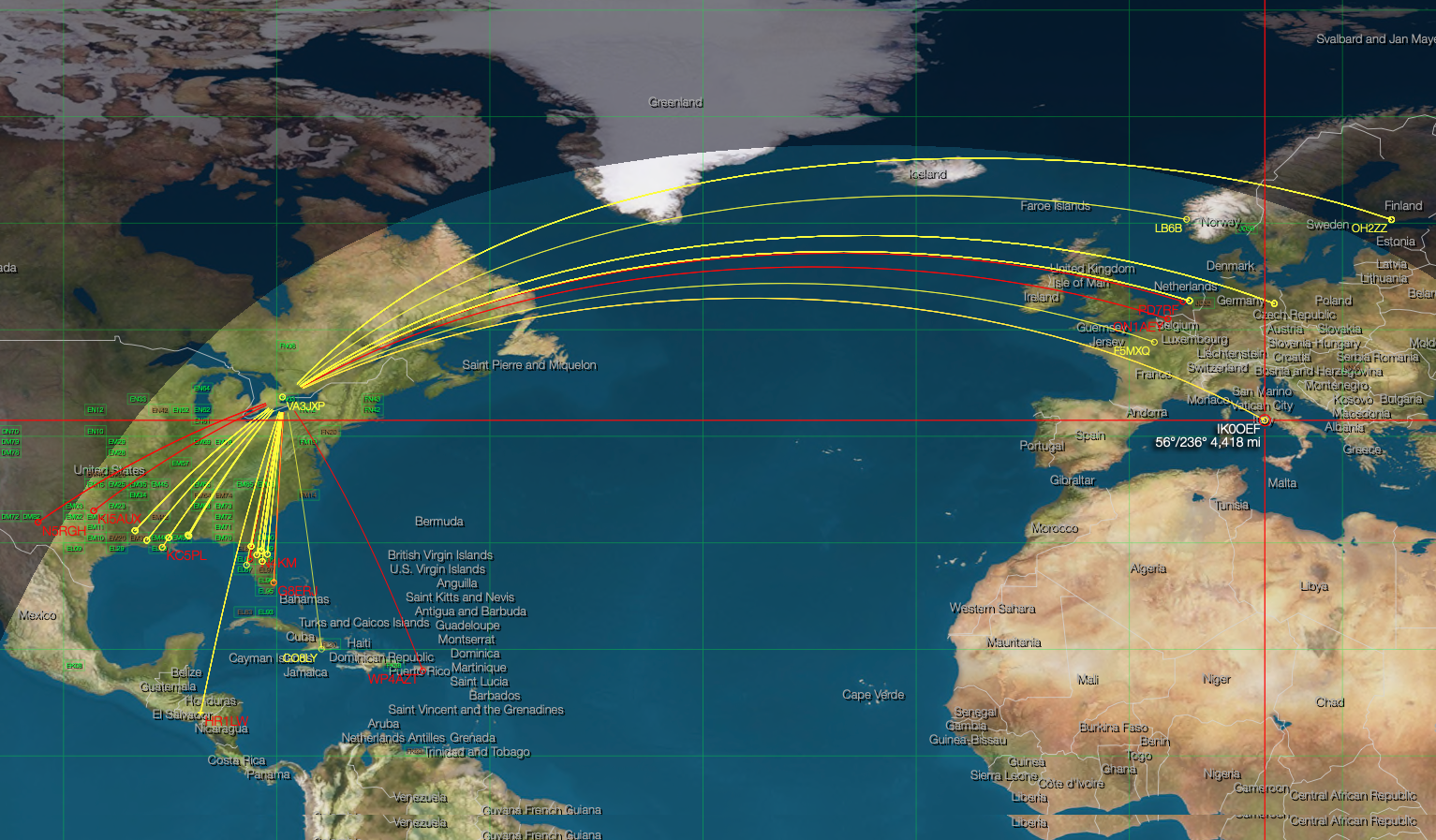 ---
WSJT-X Radio Setup
If you let WSJT-X or JTDX control the radio, do not attempt to connect MacLoggerDX to your radio at the same time.
If you want WSJT-X or JTDX to control the radio through MacLoggerDX select the DX Lab Suite Commander for Rig.
Set a TCP port that MacLoggerDX will listen on. Enter a number between 1024 and 65355, Mode can be USB or Data/Pkt and Split can be None or Fake It.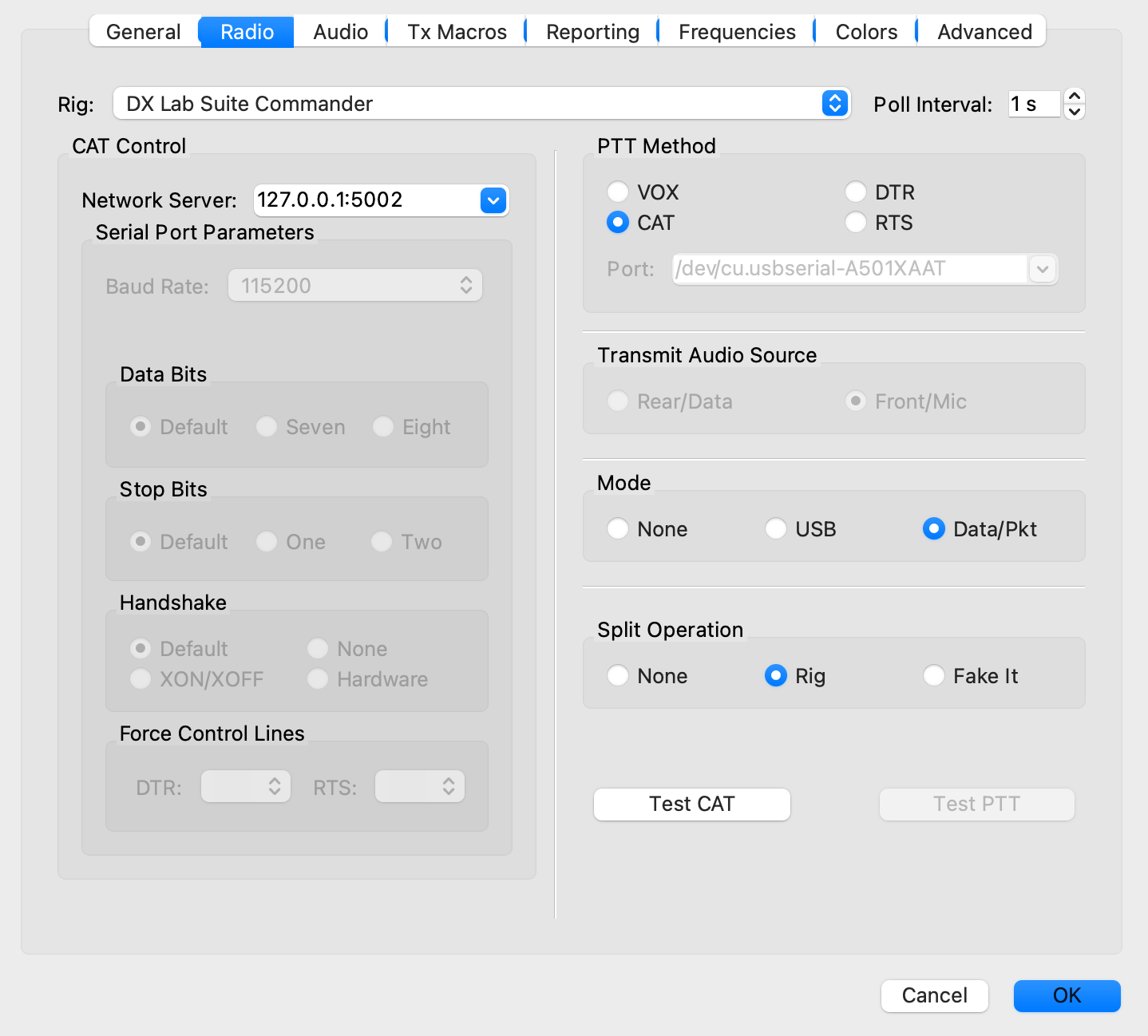 WSJT-X Reporting Setup
In the WSJT-X or JTDX Preferences / Reporting tab under the UDP Server section verify that the IP Address is 127.0.0.1 and the Port number is 2237.
Multiple WSJT-X instances can send their UDP messages to MacLoggerDX. If they are on different Macs or you have multiple applications receiving WSJT-X UDP broadcasts, use a multicast address like 224.0.0.1. If you are not getting any Spots from WSJT-X, make sure you don't have another UDP listener like JT-Bridge running at the same time.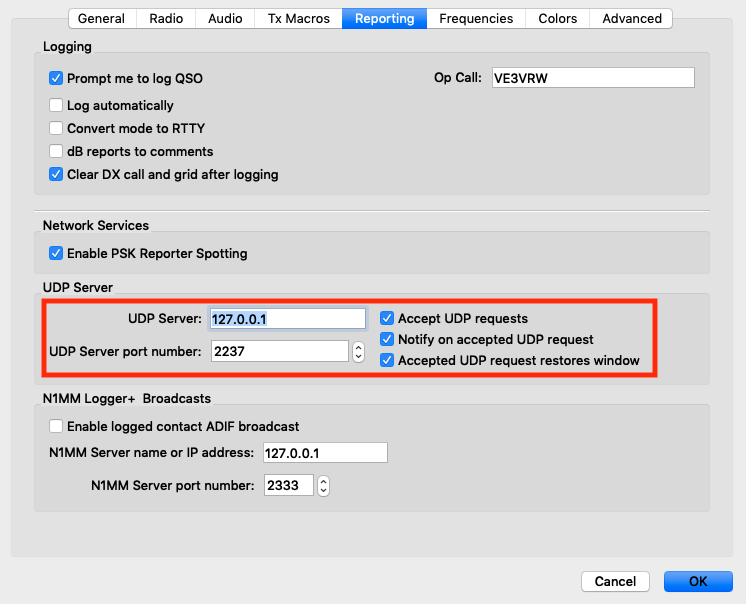 MacLoggerDX Setup
In the MacLoggerDX Station prefs, enable the WSJT-X check box to send CQ spots, the DX Call and logged QSOs from WSJT-X to MacLoggerDX, enable the DXLab TCP check box to start the TCP Server so that WSJT-X can control the radio connected to MacLoggerDX.